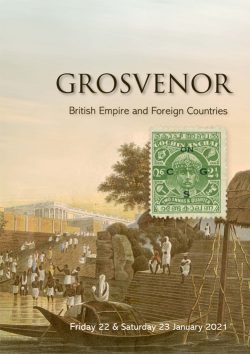 22 January 2021
11am – Lots 1-226
1pm – Lots 227-565
Not before 3:30pm – Lots 566-812
23 January 2021
10:30am – Lots 813-1066
1.30pm – Lots 1067-1364
View the sale. Register to bid. Leave bids.
PDF Catalogue Part 1
PDF Catalogue Part 2
Featuring special sections of lots presenting the impressive Jack Harwood Collection of Postal Orders with rarely offered items including the handsome Postal Notes of New Zealand and the remarkable lifetime's collection of India and States formed by the late Ken Carter.
This auction was previously scheduled for December 2-3 but has been postponed to January 22-23, 2021 due to the second lockdown.
News item published on: 6 January, 2021