To celebrate the 100th Grosvenor Auction we will be presenting this November an exceptional week of specialised auctions:-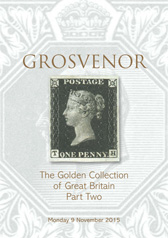 GPA 100 The 'Golden' Collection: Part Two
Monday 9th November at 10.30am
The second part of this prestigious collection, presenting the Issues of Queen Victoria and King Edward VII with rare abnormals and Officials.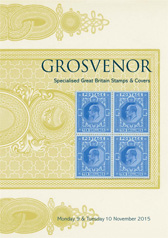 GPA 101 Specialised Great Britain
Monday 9th at 2pm and Tuesday 10th at 11am and 2pm 
Featuring the fine collection of 1d. reds formed by the late Dr. W F Maddams and the superb study of the Postal History of Norfolk by Patrick Pearson RDP, FRPSL, including 1665 and 1666 letters signed by King Charles II.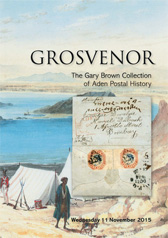 GPA 102 The Gary Brown Collection of Aden Postal History
Wednesday 11th at 11.05am
Winner of the F IA P Grand Prix International in 2010 and a F IA P Grand Prix d'Honneur in 2012, this unmatched collection contains both the earliest and second earliest entires originating from Aden as well as many other rarities including scarce usages of the India 1854 and later issues.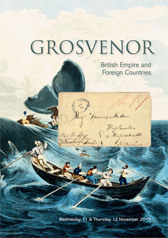 GPA 103 British Empire & Foreign Countries
Wednesday 11th at 2pm and Thursday 12th at 11am and 2pm
Featuring the fine "Pearse" collections, the Bob Avery collection of Liechtenstein, the Tom Butlin collection of Sierra Leone, further portions of the Moore & Moore collection of Gibraltar and the R.J. Maddocks Cameroons, as well as specialised Falkland Islands, with the exceptional collection formed by the late John S Murdock, including the Earliest Falklands Letter, sent from the islands in 1800.        Click to view
News item published on: 14 October, 2015