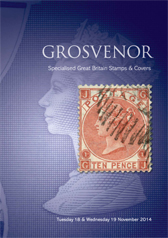 The specialised Great Britain auction on November 18th/19th will feature the JJB Gold Medal winning collection of Channel Islands Postal History, the collection of British Airmails formed by the late Squadron Leader DR Stratton and an excellent selection of abnormals and rarities including the superb example of the 1865-67 10d. red-brown watermark emblems error, fine Seahorses and a good range of Machins and QEII commemorative errors.
This sale will also feature Surrey postal history formed by the late Arthur Moyles.
Arthur, a former Analytical Services Manager from Carshalton, formed this exceptionalcollection with a strong focus on Croydon over many years, including picture postcards and many rare markings.  His excellent collection of Malta postal history, is also offered in our accompanying British Empire & Foreign Countries auction on November 19th/20th.
"Collecting stamps alone is too easy.  All you need is money.  To be a postal historian you need time, effort and an enquiring mind."  (Arthur Moyles, interviewed in 1988)
News item published on: 14 October, 2014