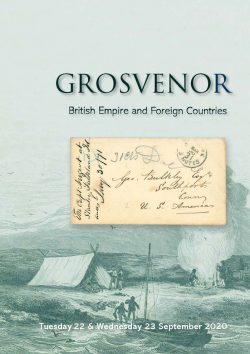 22 September
11am: Lots 1-509
Not before 3pm: Lots 510-798
23 September
11am: Lots 799-1082
2pm: Lots 1083-1400
View the Sale. Register for live bidding. Leave bids.
Featuring an important presentation of Falkland Islands, Antarctica and South Atlantic Islands including the collections of the late Peter Cottis and exceptional postal history from the collection of Ralph Riddell-Carre, together with notable offerings from a wide range of countries including Egypt, Gambia and Tasmania 1899-1912 Pictorials from the fine collection formed by Malcolm Barton.
Viewing for this sale is by appointment only, please contact us to book an appointment.
Sale day attendance is available by appointment only.
Due to the need for social distancing the number of seats in the auction room has been greatly reduced and no refreshments will be offered on the day.
Those wishing to attend will be required to know which lots or lot range they wish to bid on when making the appointment and may be asked to leave the premises between lots to enable others to bid.
Coffee shops, pubs and restaurants have started to reopen and there are plenty of options a few minutes walk from our offices.
Appointments will be made on a first come, first serve basis.
News item published on: 26 August, 2020