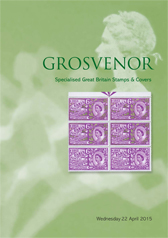 Online Now
Sale number: 96
Start Date: Wednesday 22nd April 2015
Sale Time: Wednesday 22nd April 2015 at 11 am and 2pm
A specialised auction of over 1,200 lots, the property of 125 vendors, featuring an award-winning collection of Liverpool Postal History; the collection of Great Britain formed by the late Dennis Clarke; very fine line engraved and Seahorses; an excellent section of QEII commemorative errors including many great rarities; and one of the finest and most comprehensive collections of 1966 'Birds' ever assembled.
Public viewing at our offices is to be available on
Thursday 16th April 9.30 am to 5 pm
Friday 17th April 9.30 am to 5 pm
Monday 20th April 9.30 am to 4 pm
Private viewing will be available from the 31st March. Please telephone us beforehand to arrange an appointment. Please note viewing will not be available on the 21st April.
News item published on: 26 March, 2015