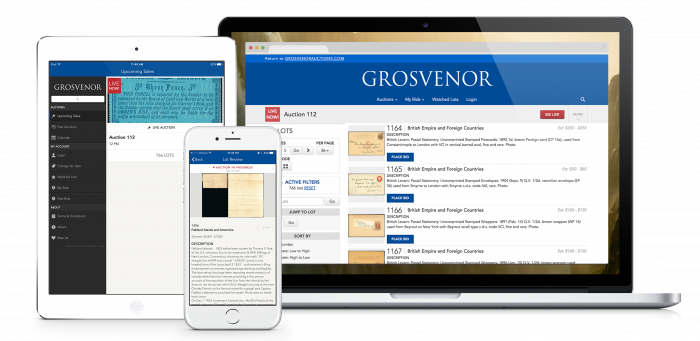 Grosvenor is pleased to offer the opportunity, for those unable to attend our sales, the chance to participate live in our auctions from the comfort of their own homes, or even, on the move using our mobile app.
With a live video feed those who simply wish to watch our auctioneers at work are able to do so without the need for registering prior to the auction.
The video feed will become 'live' a few minutes prior to the start of the auction. Those who wish to bid are required to register well in advance of the start of the auction in order to be approved for bidding.
Viewing the Sales
Those who wish to follow the sale but not participate in bidding, do not need to register.
View the Sale
*Live video will be available a few minutes prior to the start of the auction*
New Clients
New clients or those who have not previously purchased from Grosvenor are required to contact us at least 48 hours prior to the auction with trade references  and to request a spending limit.
Failure to contact us prior to the auction will slow down the registration process and may lead to registrations not being approved in time for the auction
Registering to Bid
Bidders are required to register for each new sale.
All bidders are advised to register well before the start of the auction to ensure that requests can be approved. Those registering during the auction may not be approved in time.
 Register to Bid
Live Bidding
Once registered and approved to bid, bidders will have the opportunity to leave absentee bids, 'watch' selected lots or simply wait for their lot/s to come under the hammer.
While many auctions involving online bidding are often slow and time consuming our auctions proceed at a rapid pace and online bidders are treated as if they were room bidders.
We aim to sell at 150-200 lots per hour. 
Bid Live
Charges 
There is no charge for watching our auctions and no registration is required for those merely wishing to follow the auction.
Only successful bids will be subject to a surcharge of 3% (+VAT where applicable) on  the hammer price of each successful purchase, in addition to our buyer's premium and any other relevant charges.
Successful absentee bids left on the live bidding platform will be subject to the 3% charge (+VAT where applicable). Those who do not wish to participate in the live auction and only leave absentee bids are advised to use our online bid form or complete a bid form contained within one our catalogues.
Download our free app!
Place bids and manage your account from anywhere.