As London sweltered and sweated in the early summer heatwave, prices were also simmering nicely in the Grosvenor saleroom during the two day British Empire & Foreign Countries auction held on June 15th/16th. The final £432,380 sale total exceeded comfortably the auctioneers' pre-sale expectations.
A series of steady results for individual items were interspersed by particularly strong realisations for larger collections, both specialists and dealers competing to capture material in quantity to sort and study.  A most unusual and surprisingly extensive collection gathered under the theme of 'Canals & Waterways' [lot 132], formed by Bob Cotton, a director of the British Waterways Board, and incorporating the collection of noted canal historian Charles Hadfield, achieved £1,860.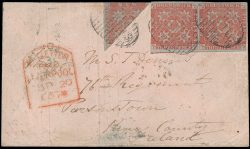 A particularly interesting presentation of the early mail of Canada included many fine items gathered by Mike J Y Roberts FRPSL. From New Brunswick the 1857 envelope to Ireland [lot 415] with the 7½d. packet rate paid by a pair and diagonally bisected single of the 3d. value sold for £1,798 and from Prince Edward Island an 1803 ship letter to Edinburgh [lot 441], carried by private vessel with London Ship Letter arrival, was the earliest known overseas letter following the territory's change of name from St John's Island, and well deserved its £843 realisation.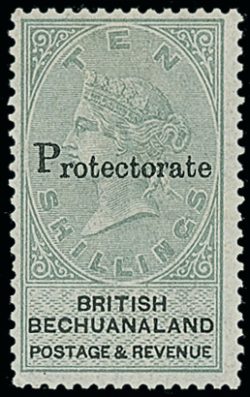 Other individual prices that caught the eye, whether as confirmation of steady continuing interest or particularly strong bidding that recognised their rarity, included a mint Bechuanaland 1888 10s. green and black [lot 321] which achieved £2,852 (cat. £5,000), the ever popular St Helena 1961 Tristan relief Fund set [lot 1020] with a marginal unmounted mint set realising £4,340 (cat. £8,000) and a delightfully centred mint example of the rare 1st watermark New Guinea NWPI 5/- [lot 886] which found a pleased new owner for £1,550 (cat. £2,750).
Also from Bechuanaland, an attractive mint 1888 "One/Half/Penny" on 3d. showing the broken "f" in "half" variety [lot 304] rose to a strong price of £7,440. From Sweden a rarely offered 1949 presentation stockbook from the Director General of the Post Office [lot 1120] achieved £1,922. Unissued and existing only as specimen stamps, the British Levant 1905 "LEVANT" 2s.6d. pair [lot 369] reached £1,922.
There was much interest among enthusiasts for the charismatic figure of Robert Baden-Powell, the Siege of Mafeking or the History of Scouting, keen to see the result of lot 1106. This lot offered an example of the Mafeking 3d. on piece accompanied by a rare autograph note in the hand of Baden-Powell explaining the issue and which had first been sold by auction in 1937, donated by the great man for the benefit of North Wiltshire Scouts. This fascinating item did not disappoint with an excellent realisation of £2,852.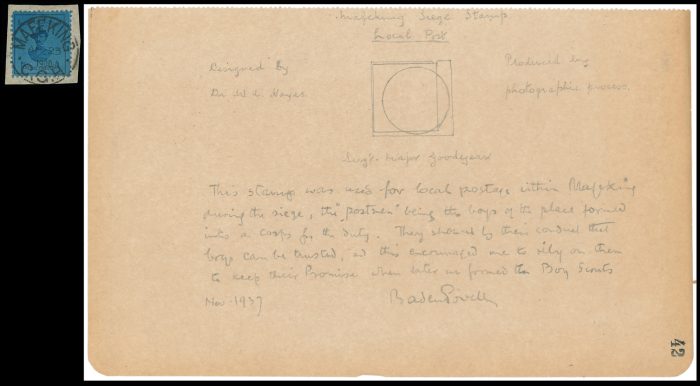 Click Here for Prices Realised
News item published on: 22 June, 2022