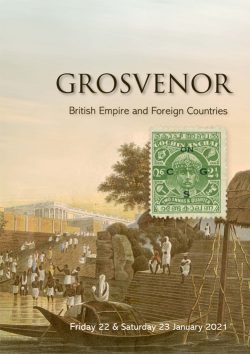 22 January 2021
11am – Lots 1-226
1pm – Lots 227-565
Not before 3:30pm – Lots 566-812
23 January 2021
10:30am – Lots 813-1066
1.30pm – Lots 1067-1364
View the sale. Register to bid. Leave bids.
PDF Catalogue Part 1
PDF Catalogue Part 2
Featuring special sections of lots presenting the impressive Jack Harwood Collection of Postal Orders with rarely offered items including the handsome Postal Notes of New Zealand and the remarkable lifetime's collection of India and States formed by the late Ken Carter.
Due to Government restrictions, this auction will be held behind closed doors.
Additional scans of large lots are available on request with many of the lots, especially the Ken Carter collection of India and States, having been photographed in full.
Images and videos can also be requested via Whatsapp on +44 7542 691248
Additional images of lots are available on through our live bidding service and clients are invited to view the sale, register, leave bids and ready themselves for live bidding.
Our live bidding system is quick, easy to use and has proven a successful method of bidding even for those who are not confident with computers. We will be happy to answer any queries and offer guidance for those new to the system.