Very few lots in the East Africa sale at Grosvenor on 27 November failed to find new homes in what proved to be a very successful auction. This memorable day presented a unique opportunity to acquire stamp and postal history rarities from the collections of two highly distinguished collectors of this fascinating side of the 'dark continent', John Wilks and the late John Minns. Interest in this landmark auction came from right across the globe.
The highest realisation on the day was achieved by the British East Africa 1895-96 1a. plum [lot 110] showing the variety "Brit1sh" (S.G. 50a), the only mint example in private hands, which soared to a price of £20,295. Only five used examples recorded of the 1895 ' Remington' Provisional "1 anna" on 3a. black on dull red (S.G. 32), nevertheless its £8,680 realisation was impressive [lot 95].
The attractive Deutsche Witu – Gesellschaft Lamu envelope addressed to Berlin in 1890 franked by the Great Britain overprint 1/2a. on 1d. pair, 1a. on 2d. and 4a. on 5d., carried by dhow to Aden and cancelled there [lot 160], is one of only three recorded commercial covers bearing the first issue and also deserved fully its £10,912 realisation.
Covers bearing the 1891 Mombasa provisional surcharge stamps are of great rarity and this auction held no fewer than five of these treasures. Interest may have been divided as prices here were satisfactory but not exceptional. The only recorded example of S.G. 20 on cover [lot 205], and one of just two known covers from Lamu franked with a manuscript provisional, achieved £9,300 whilst the celebrated 'Colombo' cover, addressed to Ceylon but missent in the Indian Mail and one of just two surviving covers bearing S.G. 21 [lot 204], reached £8,928.
Zanzibar also featured strongly in this presentation and particular mention must be made of the £6,820 that was achieved by the handsome essay of Sultan Al bin Hamoud [lot 541] prepared by De La Rue for the 1908-09 rupee values.
---
The following day, 28 November, saw the auction of British Empire & Foreign Countries, which offered material from a wide range of countries including a further specialised offering of Falkland Islands & Antarctica.
Starring on the front cover of the catalogue, the experimental airmail cover [lot 1529] carried to Port Stanley in 1934 by seaplane from H.M.S. Exeter was a new discovery and only the seventh recorded example. This item climbed impressively in the bidding to a final price of £7,626. Also new to the market was the South Georgia 1944 overprint 3d. plate no. 1-2 corner block of four [lot 1571], the only other previously recorded example being held in the 'Royal' Collection. The £2,728 realisation did not surprise but results among the modern stamp errors were not always predictable. The 1978 Mail Ships 9p. vertical pair showing variety imperforate between lower stamp and margin [lot 1498] is rarely offered and its £1,860 result, however, was well merited.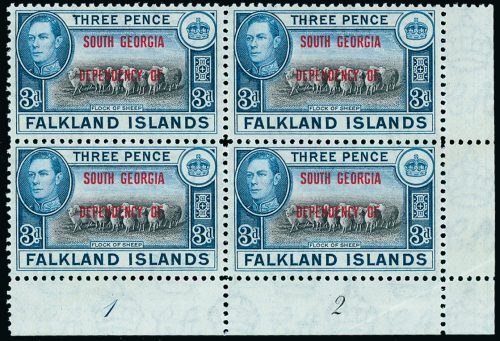 The postal history of Pondicherry is a rarely offered subject on the London market and the collection formed by the late John Minns attracted significant interest. Bidding was strong and a registered entire sent to Bordeaux in 1878 bearing the French Colonial General Issue 1872-77 10c. with a pair and single of the 1877-78 40c. [lot 1847] reached £1,674.
Among other notable results in this auction were the £2,275 paid for the Taiwan 1951 presentation booklet [lot 1310] containing a range of contemporary issues despite some damage to its cover, whilst the Egypt market held up well with a selection of nine imperforate "Cancelled" control blocks of four from the 1926-35 Official issue, originally from King Farouk's personal 'Royal' printing [lot 1349] achieved £3,120. The £2,108 paid for the Saint Helena 1922-37 £1 'torn flag' [lot 2086], a scarce variety in fine unmounted mint condition, was perhaps disappointing.
These two auctions, concluding the Grosvenor Autumn 2019 Season, achieved an excellent joint realisation of £750,143. Prices quoted include buyer's premium and taxes.
Full listings of prices realised at each auction may be downloaded from the Grosvenor website www.grosvenorauctions.com. Contact Tom Margalski for further information.
News item published on: 6 December, 2019