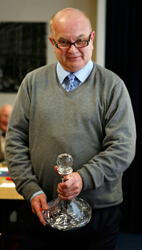 Director and Office/Accounts Manager Christopher Lawrence, Grosvenor's longest serving employee, recently notched up his 100th auction since joining the company in 2002.
At our recent Great Britain auction, in order to commemorate this achievement, Chris was presented with an engraved ship's decanter which he accepted with good grace, albeit with some reluctance at being dragged into the spotlight.
Congratulations, Chris!
News item published on: 3 May, 2017