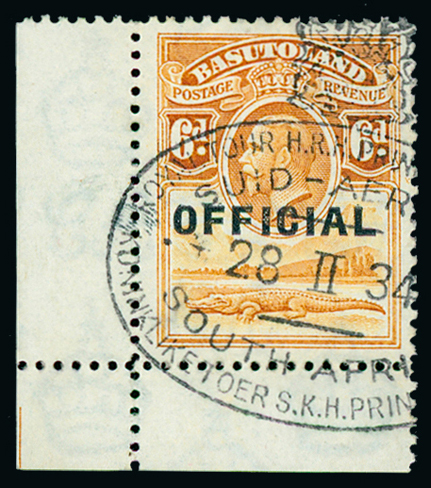 The two November auctions at Grosvenor presented a wide range of fascinating material for specialists and achieved an impressive combined total realisation of £1,398,890.
The auction of Specialised Great Britain held on November 15-16 featured the exceptional collection formed by the late John Harding and an unusually comprehensive collection of first day covers formed by Eric Neville Cheadle which contained rare items from all reigns. From this latter collection a much prized entire sent from London to Duns bearing the 1840 1d. black on its day of issue (lot 401) rose to a notable £29,760 whilst a registered first day cover sent from Preston to Straits Settlements bearing the 1929 P.U.C. £1 (lot 988) achieved a strong price of £3,600.
Featured on the front cover of the catalogue and one of only fourteen recorded surviving copies, a fine example of the 1865-67 10d. red-brown watermark emblems error (lot 690) performed well with a pleasing result of £26,040. The 'Bristol' collection of scarce essays from the 1879 Tender was well supported throughout whilst a most attractive handcoloured R.W. Hume Valentine's Envelope No. 4 used to London in 1841 (lot 302) climbed dramatically to £7,688.
In the Queen Elizabeth II section of the sale there was plenty of interest shown for both the Wilding and Castles issues, the very rare 1963 Bradbury Wilkinson £1 black watermark inverted variety (lot 1429) reaching £8,432.
The British Empire & Foreign Countries auction held on 20 November once again comfortably exceeded its pre-sale estimate total and a number of exceptional hammer prices were witnessed.
There was considerable enthusiasm shown for items from the fine collection of Barbados formed by Bill Hall, strong prices including a handsome copy of a key item amongst the Britannia issues, the 1875-81 Watermark Crown CC Perf. 14 x 12½ 4d. red (lot 2300) which sold for £2,108 despite the trace of a hinge thin.
From the Allen Wood collection of Basutoland a rare set of four of the 1934 "OFFICIAL" overprints, each marginal and cancelled by special Royal Tour cancellations (lot 2373) well exceeded their catalogue value with a result of £22,320.
An interesting presentation of Falkland Islands & Antarctica included the recently rediscovered 1884 'Comstock' whaling letter (lot 2580) which achieved £4,712 and a most unusual unusual 'Fra South Georgia' postcard (lot 2736) sent in 1914 by Leonard Hussey, meteorologist on Shackleton's ill-fated expedition, which rose spectacularly to £9,920.
Elsewhere in this auction mint examples of the Australia 1908-09 Perf. 11 20s. dull green postage due (lot 2202) reached £2,640, the Cameroons Expeditionary Force 1915 3s. on 3m. violet-black with surcharge double (lot 2473) realised £9,300 and the Jind 1886 red overprint 1r. slate showing "JEIND" for "JHIND" variety (lot 2866) was well bid to £2,728.
Full listings of prices realised at each auction may be downloaded from the Grosvenor website www.grosvenorauctions.com. Contact Andrew Williams or Tom Margalski at GROSVENOR for further information.
News item published on: 23 November, 2018