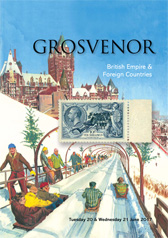 Sale Number: 116
Tuesday 20th June 2017 at 10.30 am and 2.30 pm
Wednesday 21st June 2017 at 11 am
Featuring a fine offering of Canada and Newfoundland including material from the outstanding collections formed by Mel Doyle and JSP Wilson FRPSL, the exceptional collections of Ireland Seahorses formed by Prof. Arthur Weston and Morocco Agencies by David A Stotter FRPSL, a further presentation from the Moore & Moore Collection of Gibraltar and the latest in our popular series of specialised sections of Falkland Islands & Antarctica.
Public viewing at our offices is to be available on…
Friday 16th June 9.30 am to 5 pm
Monday 19th June 9.30 am to 4 pm
Private viewing will be available from the 30th May. Please telephone us beforehand to arrange an appointment.
News item published on: 25 May, 2017