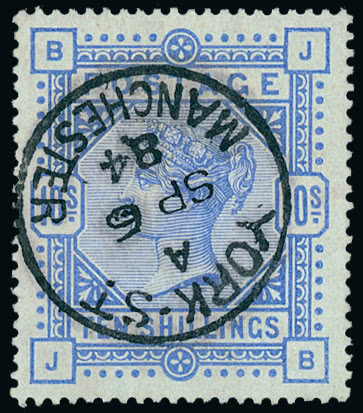 The Specialised Great Britain auction held at Grosvenor on 24-25 April provided many positive indications of a market that has now settled down and is ready for more sustainable growth. The auction exceeded its pre-sale estimate, achieving a fine total of £832,027.
The first half of this sale featured a particularly high proportion of material of exceptional quality, including Queen Victoria surface printed issues showing fine dated c.d.s. cancellations. One such was the popular cobalt shade of the 1883-84 10s. [lot 794] that climbed to £4,560.
The Edward VII and King George V reigns remain solid, the 1929 P.U.C. set tied to official stationery by first day Congress cancellations [lot 1000] selling for £6,820.
The second half of the sale was particularly error strewn – but in a good way. After recent periods of over-inflated price rises and subsequent doldrums the realisations for missing colours and misperforations in this auction appeared much steadier and more predictable. At top marginal block of four of the 1937-47 7d. emerald-green with its upper pair imperforate on three sides [lot 1095] rose impressively to £4,340 shortly after an unmounted mint vertical block of twelve of the 5d. brown with upper half largely imperforate [lot 1092] had reached a price of £10,540.
Booklets have a good collector following and it does not surprise when a rarity such as the 1938 (May) 5s. containing 1½d. panes with watermarks inverted [lot 1170] reaches £1,017. A misperforated booklet can create a particularly striking variety and the 1945 (Dec.) 5s. affected by a dramatic paper fold [lot 1177] well deserved its £4,960 realisation.
A broad offering of Queen Elizabeth II commemorative errors included the outlandish 1966 Birds 4d. se-tenant block of four missing no less than four colours [lot 1262] that achieved £6,448, the 1971 Christmas 3p. with reddish violet omitted [lot 1290] which rose to £4,320 and the 1972 Polar Explorers 3p. with lemon omitted [lot 1297] that went further, to a final price of £7,488 despite some creasing and perhaps not at all excessive if, as is thought, it is of unique status.
A strong section of Machin stamps and booklets included the outstanding collection formed by the late, and much missed, Robert Cambell 'Cam' Grosjean. Among many notable prices was the £2,193 paid for the cylinder 9p41 no dot block of six of 12p. bright emerald Harrison photo FCP/PVAD with star underprint [lot 1411] whilst £1,380 was achieved by the variously hued group of rare colour trials [lot 1359].
Full listings of prices realised at each auction may be downloaded from the Grosvenor website www.grosvenorauctions.com. Contact Andrew Williams or Tom Margalski at GROSVENOR for further information.
News item published on: 29 April, 2019