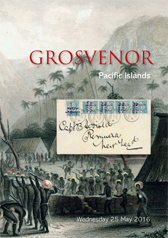 Auction of Pacific Islands Postage Stamps and Postal History
Sale number: 108
Start Date: Wednesday 25th May 2016
Sale Time: Wednesday 25th May 2016 at 11 am and 2 pm
A specialised auction of nearly 700 lots, featuring the Martin Baxendale Collection of Tonga, the Michael Parr Collection of the Territories of New Guinea and Papua, fine Cook Islands, Samoa and the Greg Willson collections of British Solomon Islands and Gilbert & Ellice Islands.
Public viewing at our offices is to be available on
Thursday 19th May 9.30 am to 5 pm
Friday 20th May 9.30 am to 5 pm
Monday 23rd May 9.30 am to 4 pm
Please note there will be no viewing available on the 24th May.
Private viewing will be available from the 3rd May. Please telephone us beforehand to arrange an appointment.
News item published on: 27 April, 2016