Extended periods of public viewing of lots are currently provided in order to facilitate compliance with social distancing and other health safety guidelines.
Wednesday 16 June 2021
British Empire & Foreign Countries
An interesting auction of nearly 900 lots, collections, selections and single items including significant offerings of Barbados and Fiji.
This auction is now closed for consignments and the sale catalogue is in preparation.
Tuesday 5 October 2021
British Empire & Foreign Countries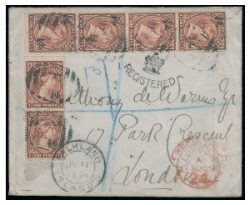 This auction will include the latest in our popular specialised offerings of Falkland Islands & Antarctica and will feature the exceptional collection formed by the late Eric Phillpott.
Closing for consignments on 31 July 2021.
Thursday 7 October 2021
Specialised Great Britain
This auction will feature a broad spectrum of material including a fine presentation of English and Irish spoon cancellations from the collection of the late J M Allison.
Closing for consignments on 31 July 2021
News item published on: 1 May, 2021