A regular feature of the auctions at Grosvenor in recent years has been an unequalled series of important offerings of Falkland Islands, Antarctica and South Atlantic Islands.  This proud tradition continues in our auction on September 22.
The British Empire & Foreign Countries auction will include fine postal history from the collection of Ralph Riddell-Carre, together with the collections of the late Peter Cottis including Saint Helena and other South Atlantic Islands.
Among the unique or superlative items to be offered in this sale are the earliest recorded cover with inward Falkland Islands postal marking, the earliest recorded use of an adhesive stamp from the islands, the only  known stamped serviceman's concessionary rate cover from the islands, the 1916 cover showing large "R" registration mark and the plate number marginal example of the foremost QEII variety – the HMS Glasgow error.
Other great rarities include Red and Black Franks, a 1914 cover with manuscript "Passed Censor" endorsement (four known), the earliest known insured item from the islands, covers from HMS Exeter in 1934 (seven known) and a juvenile 'Evacuee' from Stanley, (nine known). From New Island there is a 1909 cover with the earliest known date of the first c.d.s. with manuscript annotation and from Fox Bay in 1902 comes one of only four known covers showing the WF.2 West Falkland c.d.s.
The Antarctica section offers scarce covers and cards from the early Swedish, Scottish and British Graham Land Expeditions whilst Falkland Islands Dependencies section embraces interesting sections of whaling and Operation Tabarin mail, as well as one of just three known 1/2d. pairs cancelled by the South Shetlands "PORT FOSTER" imprint, and early mail from South Georgia with large and small "SOUTH GEORGIA" imprints and "Paid At" items.
This sale will be available to view on the Grosvenor website from late August and complimentary copies of the sale catalogue will be available on request.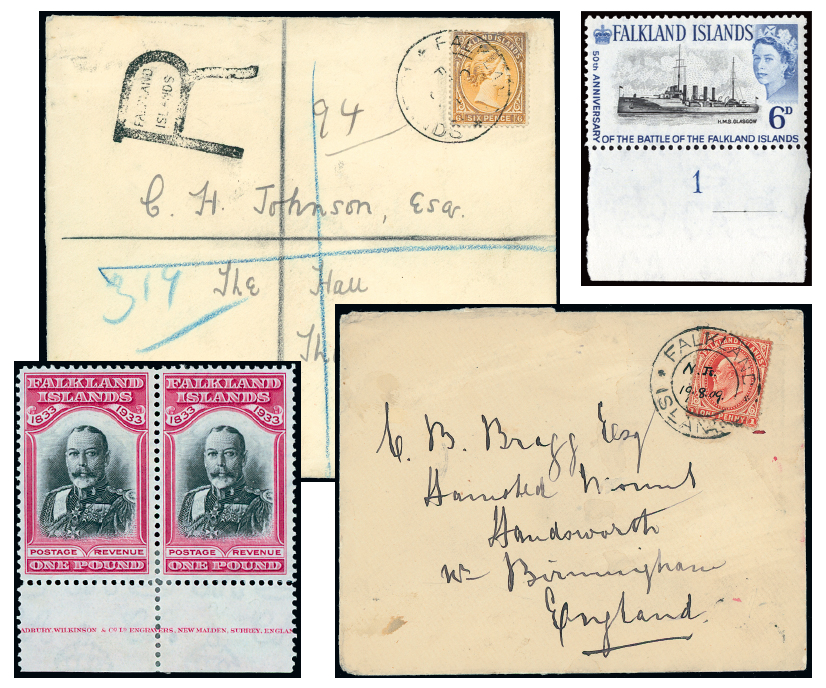 News item published on: 1 June, 2020