The Stephen John Lawrie collection of Private Telegraph Stamps will feature in our specialised auction of Great Britain on 28 October.
"Those who admire modern civilization usually identify it with the steam engine and the electric telegraph" – George Bernard Shaw.
The activities of the private telegraph companies of the nineteenth century make for fascinating study. This collection has been called the most complete assembly of their issues since that formed by Raymond Lister and includes most of the great rarities that still remain in private hands. Carefully presented in around 200 lots are proof material, colour trials, forms and stationery as well as almost all the known issued stamps.
From the Electric Telegraph Company we present no fewer than eight differently franked message forms, these having been described by Edward Denny Bacon in the 1920s as amongst the greatest rarities of Great Britain Philately. Amongst the other rarities from this company are a perforated example of the 3d. Continental Service stamp issued in 1861 for telegrams to Hanover, Hamburg and Denmark, one of only two known examples privately owned, as well as a Director's Message Stamp for George Parker Bidder believed unique in private hands.
Only two stamps from the Submarine Telegraph company are known to exist outside institutional collections and both are here included.
From the British Telegraph Company we present not only the rare 2s. and 4s. but also the enigmatic 18d. value. For many years Its existence had been known but no copy had surfaced until the appearance of this single example. There is a largely complete representation of the issues of the British and Irish Magnetic Company including the only one known example of the first issue outside the Royal Philatelic Collection.
Also featured are complete booklets of the 3d. Bonelli stamps, these being often stated to be the first booklets of any kind that were produced, as well as the very rare London District 6d. on surface coloured paper with handwritten control, one of just three known examples, and a number of spectacular proof items from the De La Rue Archive for the United Kingdom Telegraph Company.
The auction also presents the extensive collection of used Military and Army Telegraph stamps formed by Lawrie with some mint and proof items together with used material including many rare field office cancellations.
This sale will be available to view on the Grosvenor website from late September and complimentary copies of the sale catalogue will be available on request.
" The telegraph is a kind of very long cat. You pull his tail in New York and he is mewing in Los Angeles. Radio operates in exactly the same way, except there is no cat." – Albert Einstein (attr.)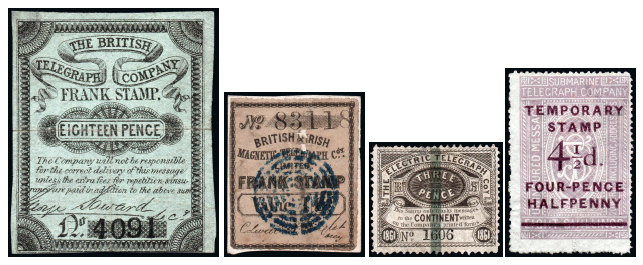 News item published on: 30 May, 2020