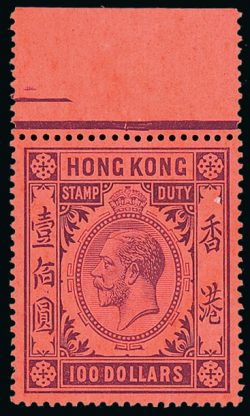 The welcome early spring warmth on the London streets encouraged a strong attendance at the auction of British Empire & Foreign Countries, the first of Grosvenor's Spring 2019 sales, held on February 21. Room bidders joined with internet, telephone and 'book' contributors around the world to create a series of most encouraging results and an overall sale total of £420,172.
As the stamp market continues its evolution from traditional patterns into a more diverse world of collecting it was appropriate that the highest price in the sale, £22,320, was generated by the exceptional Forgery Reference Collection formed over many years by members of the Bath Philatelic Society (lot 78).
There was strong international interest in a section of Hong Kong lots that featured the collection formed by the late Percy Vickery. An unmounted mint group of four King George V revenue stamps (lot 470) comprising the 1912 $100, 1921 $25 $40 and $50, was driven dramatically upwards by enthusiastic bidding to £1,984.
The Mel Doyle collection of Zanzibar was featured on the outside cover of the sale catalogue and the front cover item, an attractive master die proof for the 1908-09 Sultan Ali bin Hamoud issue (lot 900), was rewarded with a realisation of £713.
An unusual group of scarcer Colombia airmail stamps was well received, the cartoonish C.C.N.A. 'ocean liner' design (lot 301) reaching £1,440. The now classic Canada St. Lawrence Seaway Inverted error (lot 270) showed some imperfections but nevertheless achieved a price of £3,100.
Other notable or indicative results included the King George V Universal Key Plate die proof (lot 77) that climbed to £3,596, the solid £3,224 paid for the handsome mint Trengganu 1921 $100 and the £1,674 achieved by the British East Africa first issues on a 'Whitfield King' cover (lot 539).
Full listings of prices realised at each auction may be downloaded from the Grosvenor website www.grosvenorauctions.com. Contact Andrew Williams or Tom Margalski at GROSVENOR for further information.
News item published on: 26 February, 2019