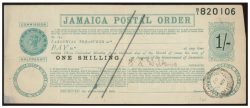 Our next specialised auction of British Empire & Foreign Countries will be held on December 2nd-3rd and the auction catalogue is now in preparation. The auction will be held over two days and contains nearly 1,400 lots covering the whole world. Featured strongly will be the remarkable lifetime's collection of India & States formed by the late Ken Carter.
This auction also includes the Jack Harwood Collection of Postal Orders, an exceptional presentation of 226 lots of rarely offered material including the handsome Postal Notes of New Zealand.
The auction will be available to view on this website from early November and consignments for our first British Empire & Foreign Countries sale of the new year on February 24th will be accepted until December 18th.
News item published on: 7 October, 2020