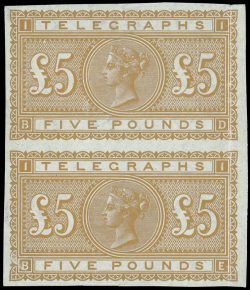 April 25 SPECIALISED GREAT BRITAIN including unusual Revenues and Telegraphs featuring the exceptional Frank Brown and Lawrence Armitage collections, as well as the outstanding 'Bristol' Collection of Lundy.
April 26-27 BRITISH EMPIRE & FOREIGN COUNTRIES featuring the first part of the remarkable Stefan Heijtz FRPSL International Large Gold Medal Collection of Saint Helena Postal History, the Donald Napier Collection of Jamaica Postal History, and David Watson award-winning Collection of Caribbean Shipping Mail, together with exceptional offerings of British Africa Airmails, Egypt, Malaya, Rhodesia and Sudan, and duplicate philatelic literature from the Library of the Royal Philatelic Society, London.
Consignments for the Spring 2017 Special Auction Week are warmly invited but close shortly. Please contact the GROSVENOR offices for further information.

News item published on: 9 February, 2017